California Classic
°°°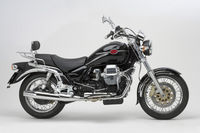 If the elixir of long life exists, then the Moto Guzzi California knows it well. Passed unscathed from one millennium to the next, it has transmitted a freer and more relaxed form of motorcycling across entire generations and with the Classic version welcomes in 2006 in fine form. The result of major updating starting from the inside. The 90° V-Twin, the company's emblem, borrows the thermal elements from the Breva 1100 to give it hitherto unknown reliability. The engine components have undergone an energetic slimming treatment, reducing weight and improving efficiency.
Conrods and pistons are lighter and the ratio between conrod length and piston stroke has been improved to reduce inertia and vibrations. Travelling is ever more pleasant, helped by the modifications made to the valves. The sintered guides guarantee constant tappet gap and the Nymonic exhaust valves offer increased resistance to high temperatures and wear, extending the working life. The timing system is entrusted to the well-proven and reliable solution of mechanical tappets, the alternator has been upgraded from 300 to 350 watts and the flywheel has been modified. The construction of the crankshaft has been changed to achieve greater efficiency in terms of sliding and lubrication. The mechanics are the same as those which made Moto Guzzi riding pleasure famous throughout the world, with the addition of a braking pressure distributor to further increase efficiency. The design has the timeless charisma of a young at heart motorcycle, with certain touches of class such as the new throttle body guards and cableways between the cylinders and tank. And the California Classic is ready to travel through another century.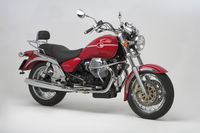 For the new season, the California Classic will have show new graphics and colours: Red Corsa, Guzzi Black, Sport Yellow, White/Grey.