Nevada Classic 750
°°°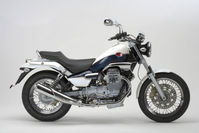 The 2005 Nevada Classic 750 i.e. is an absolutely modern motorcycle. 87% of the bike, some 383 parts out of 441, have either been redesigned or replaced and the look is totally new, even if the bike maintains all the fascination of a thoroughbred custom.
Side panels, shock absorber covers, seat, rear mudguard, tail light and even the rider footrests have been restyled. The resulting look is eye-catching and contemporary but still leaves that unique Nevada spirit shine on through. The brand new, ultra-modern instrumentation now includes an LCD display.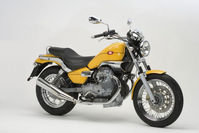 The handlebars and grips have been redesigned, as has the clutch lever, which affords smoother, easier action. Riding ergonomics have been improved to give better control and easier handling in rush-hour traffic. The new profile seat has a height of only 760 mm, making for beautifully easy low speed manoeuvring in tight spaces.